New clients and developments
Posted on 1 November, 2022 by Administrator
This autumn finds us well underway in the management of a new series of courses. Read on and learn more about new clients, a new marketing and translation jobs that are open and a recent Simbound workshop that we hosted. With hundreds of students using the platform week over week now, we are happy that the number of digital marketing decisions taken every day is near an all time high. And due to a host of recent pedagogical improvements performed to the platform we are inching closer to an overall quality learning experience for all of the learner categories using our product.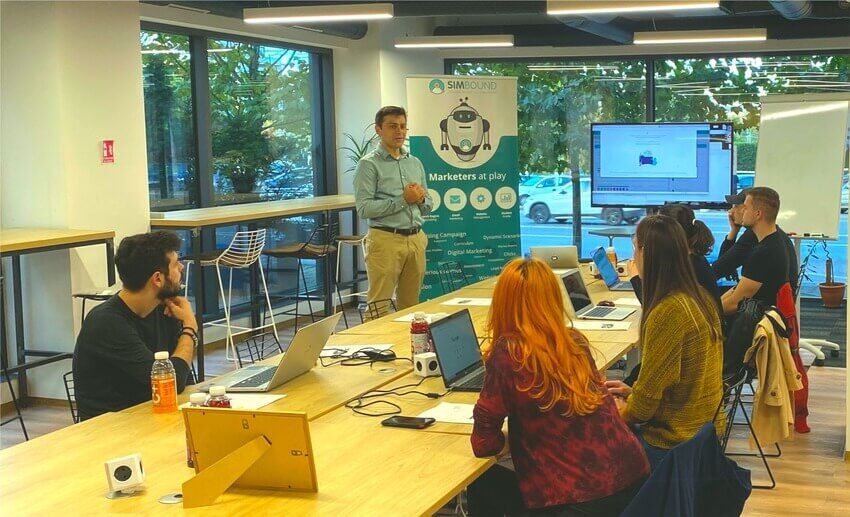 < Hi new clients and welcome back established simulation users> 


 
Did you know that there is one school which has used the Simbound simulation software for 11 years straight! This is none other than Universitatea "Dunarea de Jos" in our home country of Romania. We would like to thank them for all of the time and trust that they placed in our vision and for allowing us to contribute to the education of their students along all of these years. It is quite valuable to have such long-term commitment from clients so we are a lucky company having them onboard year after year. They are, without a doubt, really experienced users of our digital marketing simulations.

We would also like to mention some new schools which have started to use Simbound: the Indian Institute of Management which has been using the Simbound simulation with around 50 students. A new school - the Alliant International university from California is running a pilot course using our simulation and the professor there was kind enough to provide us with the following review:
Alliant International University in San Diego needed a simulation that would be relatively easy to get to grips with but with very satisfying and realistic levels of complexity and challenge. We needed it as part of the conclusion of our students' experience to tie together aspects of their learning so it needed to be suitable for advanced students. The Simbound platform fit the bill very well for my Digital and Social Media students who have very positive feedback on the team learning aspects and felt that this was an excellent learning opportunity that had been achieved. It was a major plus that I was able to administer the program myself and monitor and guide the students in and out of the classroom.

Highly recommended for anybody who needs to put students in a real-life scenario-building exercise for that at-home but real-world experiential learning medium.

Some of the best business and engineering schools around the world are Simbound clients. And since Simbound has been built from day one as a learning solution for students from all across the world we must keep delivering on that promise with a simulation that has been translated to 16 languages. BTW If you are a translator of either German, French or Japanese please get in touch as we will be seeking to upgrade the translations for these languages soon.

We are also in the process of hiring a creative and highly talented marketing manager to handle our global marketing. In case you are interested in taking up this role, please note that applications are still open up until the 11th of November 2022. (a description of the role can be read here: jobssup.com/job-18100-marketing-manager

Lastly October saw us host a workshop which was well received by a small and highly engaged group of local digital marketing simulation enthusiasts. Here is what they had to say on the day:

? "It is the first time I am using this type of website, I didn't even know they could exist"
? "This is a quite intricate simulation, the features are similar to that of the commercial solutions which I am using at my company currently"
? "For someone like me, with no experience in digital marketing I think it is an interesting learning platform"

Stay tuned and (cliché incoming) follow the Simbound social network presence to learn more about our future announcements.
Have a great ending to this year, and see you soon again here on the Simbound website.
---