Simbound Solutions
Marketing simulator for corporate training
Train marketing staff with ease through employee-focused marketing simulations
We specialise in streamlining the training of marketing professionals for 11 years. Ever since 2012, we've been making skill enhancement fun.
Our platform provides engaging learning experiences, allowing marketing trainees to evolve in a risk-free, exciting environment. Instructors can create accounts in minutes, set up various simulations, and turn large groups of inexperienced trainees into market-savvy professionals with ease.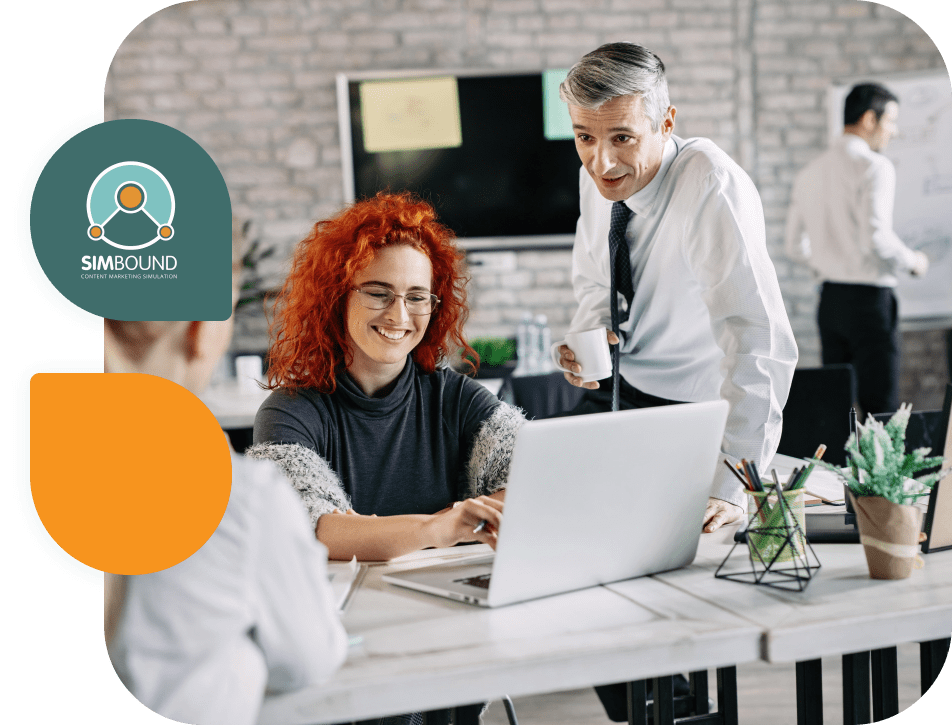 Train marketing teams collectively, with ease.
Set up the training environment in minutes and track progress in real time. Take marketing employee training to the next level with Simbound. Have fun making decisions and picking strategies.
Sign up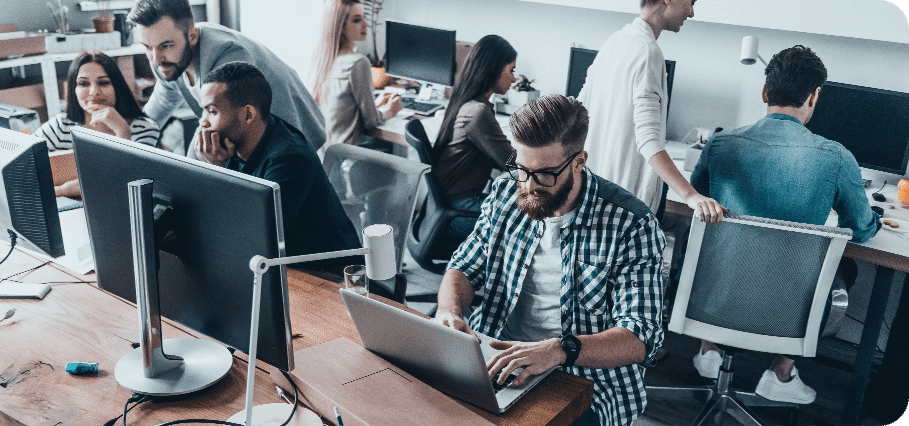 How does the marketing simulator for corporate training work?
Simply set up simulations for marketing teams in minutes. Adjust, iterate and facilitate skill improvement through real-time feedback in a safe environment. Best part? The Simbound simulator can also be used by non-marketers to help contour their understanding of digital marketing.
Here are 4 steps to setting up a successful marketing training simulation with Simbound:
1. Register and gain access
Sign up for an Instructor Account on the Simbound platform, then log in to your account to start setting up your page. You can use the marketing simulations to train marketing staff or to make digital marketing more relatable to your non-marketing teams.
2. Plan your simulation
Start by planning the timetable and activities for your marketing training. Then, define the optimal setup that trainees will need to use best for the simulation and any other content or resources required. Planning is essential and should be done at least 2 weeks before the simulation starts.
3. Deploy the marketing activities
It's time for your marketing trainees to engage in selected activities: make product decisions, website management, use analytics tools, and, if applicable, participate in search engine marketing and email marketing within the simulation.
4. Final overview & feedback
Examine the work of your marketing trainees and provide feedback on their decisions. Carry out analysis, evaluate results, and help them improve. You can repeat the simulation multiple times to achieve the right results and observe the evolution of each employee.
Leverage the power of team-based marketing simulation games
Train marketing teams in a competitive environment that makes learning fun and memorable.
Book a demo
Discover a complete marketing simulator for corporate training
Initially designed for universities, Simbound simulations have a comprehensive approach to the teaching of marketing. We aim to revolutionize how digital marketing is taught and learned globally. With Simbound, marketing trainees can practice and improve their skills in a variety of branches and allow non-marketing professionals to boost their understanding of digital marketing. We have highlighted the main areas of improvement our marketing simulations provide below:
Create and optimise websites to improve user experience and engagement.
Develop and implement community management plans across platforms
Analyze data and metrics to measure the effectiveness of marketing campaigns.
Make strategic decisions based on data-driven insights
Design and manage pay-per-click (PPC) advertising campaigns.
Understand search engine optimization (SEO) principles to increase online visibility.
Learn how to manage your budget for various marketing campaigns.
Improve critical thinking and problem-solving skills in real-time scenarios.
Develop effective email marketing strategies and analyze campaign performance.
Explore conversion rate optimization (CRO) techniques to improve website performance.
Identify and personalize marketing efforts to specific target groups.
Collaborate in virtual teams to achieve marketing goals.
Endorsed by partners all around the globe





Don't take our word for it
Here's what others have to say about their experience with Simbound:
What do you like about Simbound?
"I enjoyed the ease of use. Even if someone has never tried it before, it can easily find its way through the platform. Also, the gamification aspect of Simbound really is what makes the difference, and the students appreciated it greatly.
With the Simbound simulation, students are effectively learning by doing through different modules which are mapping well real-world practices, such as keywords bidding, A/B testing and website design."
Xi Chen / Rotterdam School of Management (Netherlands)
What have you been using it for, and what problems did Simbound solve?
"I have been using Simbound in my Digital Advertising laboratory. I have always struggled with making my students fully grasp the logic behind Paid Search. With Simbound, they were able to understand a bit better what it means to set up a search campaign for an e-commerce website and how to optimize it to improve profitability and gain more revenue. With some preliminary study and context, I think Simbound can be a nice tool to integrate into an e-commerce marketing course."
Serena Pasqualetto - Digital Marketing Manager at Pixartprinting
Sign up now and receive an extra
50 credits
Frequently Asked Questions (FAQ)
Can I use this marketing simulator for corporate training?

Definitely! Simbound's employee-focused market simulation game is designed to facilitate staff training and development for companies of all sizes. From start-up to corporate, we provide efficient marketing education software solutions.

Is the Simbound marketing training platform comprehensive enough?

The Simbound platform aims to provide a single answer to the "how to train marketing staff?" question. We cover a large array of digital marketing topics, from community management to user journey optimisation and search campaigns.

What are the learning outcomes of the marketing simulation game for employees?

Simbound marketing simulations cover a wide array of essential skills for marketing professionals. These include creating and optimising websites to enhance user experiences, analysing data and metrics to gauge the effectiveness of marketing campaigns, as well as designing and managing pay-per-click (PPC) advertising campaigns. Marketing trainees can learn budget management techniques for various marketing endeavours, develop strategies for effective email marketing while scrutinizing campaign performance, and acquire the ability to personalize marketing efforts for specific target audiences. Simbound also equips marketers with the knowledge to implement social media marketing plans across multiple platforms, make informed data-driven strategic decisions, and understand search engine optimisation (SEO) principles. Additionally, the simulations encourage critical thinking and problem-solving skills in real-time scenarios, explore techniques for conversion rate optimisation (CRO), and encourage collaboration within virtual teams to achieve marketing goals.

How can I book a demo with a Simbound consultant?

Can Simbound simulations be customized to meet specific training needs?

Absolutely. Simbound offers flexibility for customization based on your company's needs. Instructors can tailor simulations to align with specific training objectives and industry nuances. This way, we can ensure that the training meets the unique needs of marketing teams.

Is Simbound fit for people who are new to digital marketing?

Yes, Simbound is designed to help students of all levels enhance and develop their digital marketing skills. The simulations are designed to facilitate learning in a fun and risk-free environment.

Can Simbound be accessed from anywhere?

All you need is a device and an internet connection. Simbound is accessible online entirely, allowing you to engage with simulations from anywhere at any time. Whether you're on campus or off-site, you have the flexibility to immerse yourself in practical learning.

I have a question that is not on this list. Who do I talk to?

Simply use the contact form to reach out to our team. We process all enquiries within 2-3 working days, so you'll be hearing from us in no time.
Sign up now and receive an extra
50 credits